Carta de agradecimiento de la subdirectora Miss Samantha al equipo de CBS
Posted by

Categories

Noticias

Date

27 junio, 2022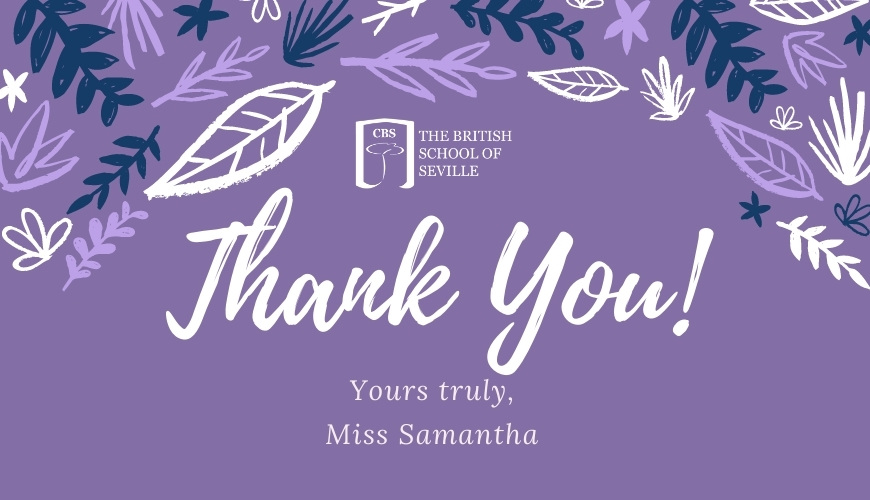 Thank you letter from Deputy Director Miss Samantha to the CBS Team
Dear Colleagues,
Well we've made it!! It's been a crazy last few weeks without much quality time to sit down and talk with each and everyone of you properly. After celebrating the end of year show last night, I feel  the need to thank you all for your hard work during this academic year 21-22. Every year at this time I send a wholeschool email thanking you all but this year I want to shout it out to everybody, our students, our parents, new families who will be joining us in September and parents who may not know it yet but will be joining CBS in the future…
We have heard many times how our School Principal, Agustín Aycart talks about the 'School' being made up of students, parents and staff. He always says that to make our school the best possible, we need the best team and that's something we both know that we already have. So, I would like to dedicate this letter to one extremely important part of CBS  and that is all of you, the staff, the CBS team.
The CBS staff team consists of exactly 90 individuals, all of whom have been selected by the Senior Leadership team to be part of CBS Altogether (School, Academies and Pre-Schools). Our staff include, as in any other school, Head teacher, Coordinators, Teachers, Teaching assistants, Quality Control Manager, Community Manager, Nutritionist, Administration staff, Secretaries, Caretakers, Kitchen staff, Cleaners, Chofers, etc… One important key to the strength of our team is the common, clearly defined goal that we are working towards, which is making CBS a better school every day for our students, families and colleagues. Each and everyone of you makes CBS what it is today. Each and everyone of you have worked extremely hard together as a team to create a School that we all want for our children. The CBS team has without any doubt done more than the expected…
After a fantastic End of Year show last night and an emotional Yr 13 Graduation last week, I have now had time to stop and think and ask myself, Do we really appreciate all your hard work, when I say we, I mean School leadership, parents, students, etc… and I have an immediate answer to my question as I am 100% sure that we do, but then another question crept up… do we really share this with you?, Do we let you know enough how much we appreciate your dedication? and this is when my answer was 'maybe not enough'…
So, on behalf of School Leadership, parents and students, here's my letter to you all , those of you that send me messages at eleven or twelve o'clock at night to tell me that you are concerned about particular students, those of you that phone me on the weekend because you want to share with me a great idea you've had to use in your classes, those of you who spend hours and hours at home writing your reports, those of you who give up your weekends to go on Duke of Edinburgh expeditions or ski trips, those of you who are coming to school in your holidays because you want to organise your classrooms ready for next year, those of you who never leave school when you should do because you are in parents meetings or organising the exam entries, those of you who do extra Curricular clubs just because you want to spend more time with your students and offer them greater opportunities, those of you who on top of all of your day to day classes manage to prepare an end of year show with all of the students participating just because you want to give them the opportunity to shine, those of you who prepare articles and posts for the social network everytime I send you photos and info even though sometimes it is at ridiculous hours, those of you who stay on in the kitchen every time we have school events, those of you who really care about our School facilities being at their best and come in on weekends to ensure this, those of you who send me whatsapps to remind me about things that we need or things that need to be done, those of you that simply stop me in the middle of a long day to say, 'Sam, are you ok? Do you need any help?'… I could go on forever because all of you go that extra mile!
THANK YOU, THANK YOU AND THANK YOU from the bottom of my heart for your DEDICATION, IMPLICATION AND CONTINUAL SUPPORT!!!
THANK YOU for caring about every single one of our students!!
CBS would not exist without you all!!
I wish you all a fantastic Summer holiday. Take care of yourselves and enjoy quality time with your families and friends… You deserve it!!
Yours truly,
Miss Samantha
Deputy Principal

Carta de agradecimiento de Miss Samantha al equipo de CBS
Queridos compañeros,
¡¡Pues lo hemos conseguido!! Han sido unas últimas semanas de locura sin ningún tiempo de calidad para sentarnos a hablar con todos y cada uno de vosotros. Después de celebrar el espectáculo de fin de curso de anoche, siento la necesidad de agradeceros a todos vuestro arduo trabajo durante este año académico 21-22. Todos los años por estas fechas envío un correo electrónico de agradecimiento a todo el colegio 'Wholeschool', pero este año quiero gritarlo a todos, a nuestros estudiantes, a nuestros padres, a las nuevas familias que se unirán a nosotros en septiembre y a los padres que tal vez aún no lo sepan pero se incorporarán a CBS en el futuro…
Hemos escuchado muchas veces cómo nuestro director, Don. Agustín Aycart, habla de que nuestro colegio está compuesto por tres pilares fundamentales: estudiantes, padres y personal.  Él siempre dice que para que nuestro colegio sea el mejor posible, necesitamos el mejor equipo y eso es algo que ambos sabemos que ya tenemos. Pues bien, me gustaría dedicar esta carta a una parte extremadamente importante de CBS que sois todos vosotros, el personal, el equipo de CBS.
El equipo de CBS consta de exactamente 90 personas, todas las cuales han sido seleccionadas por el equipo de liderazgo sénior para formar parte de Entorno CBS (Colegio, Academias y Centros de Educación Infantiles). Nuestro personal incluye, como en cualquier otro colegio, Director Docente, Coordinadores, Profesores, Profesores de apoyo, Gerente de control de calidad, Nutricionista, Personal de administración, Secretarias, Mantenimiento, Personal de cocina, Limpiadores, Choferes, etc. Una clave importante de la fuerza de nuestro equipo es que tenemos un objetivo común, claramente definido, que es hacer de CBS un colegio mejor cada día para nuestros alumnos, familias y compañeros. Todos y cada uno de vosotros  hacen CBS lo que es hoy en día. Todos y cada uno de vosotros han trabajado muy duro juntos como equipo para ayudar a crear el  colegio que todos queremos para nuestros hijos. El equipo de CBS ha hecho, sin duda, mucho más de lo esperado…
Después de un emotivo espectáculo de fin de curso escolar anoche y nuestra graduación de Yr 13 la semana pasada finalmente he tenido tiempo para detenerme y preguntarme si realmente apreciamos todo vuestro duro trabajo, y cuando digo nosotros, me refiero a la dirección del colegio, los padres, los alumnos, etc… y estoy 100% convencida de que lo hacemos, pero entonces surgió otra pregunta… ¿Realmente compartimos esto con vosotros?, ¿Os hacemos saber lo suficiente cuánto apreciamos vuestro dedicación? y aquí es cuando mi respuesta fue 'quizás no lo suficiente'…
Así que en nombre de la dirección del Colegio, los padres y los alumnos,  aquí está mi carta para todos vosotros, los que me enviáis mensajes a las once o las doce de la noche para decirme que están preocupados por determinados estudiantes, los que me llamáis los fines de semana porque queréis compartir conmigo una gran idea para ponerla en práctica en vuestras clases, los que os pasáis horas y horas en casa redactando los informes, los que sacrifican los fines de semana para ir a las expediciones del Duque de Edimburgo y a los viajes de esqui, los que venís al colegio en vuestras vacaciones porque queréis tener las aulas listas para el curso que viene, los que nunca dejáis el colegio cuando debéis hacerlo porque estáis en reuniones de padres u organizando las épocas de exámenes, los que hacéis clubs extraescolares sólo porque queréis pasar más tiempo con vuestros alumnos y ofrecerles mayores oportunidades, los que, además del día a día de sus clases, se las arreglan para preparar un espectáculo de fin de curso con la participación de todos los alumnos sólo por querer darles la oportunidad de brillar, los que hacéis artículos y publicaciones para las redes sociales cada vez que os envío fotos e información aunque a veces sea a horas ridículas, aquellos que os quedáis más tiempo en la cocina cada vez que tenemos eventos por las tardes, los que realmente os preocupáis de que las instalaciones de nuestro colegio estén bien cuidadas y venís los fines de semana para asegurarse de que lo están , aquellos de vosotros que me enviáis mensajes de WhatsApp para recordarme cosas que necesitamos o cosas que deben hacerse, aquellos de vosotros que simplemente me paráis en medio de un largo día para decirme: 'Sam, ¿Estás bien? ¿Necesitas ayuda?'… Podría seguir eternamente… porque todos vosotros hacéis ese esfuerzo extraordinario…
GRACIAS, GRACIAS Y GRACIAS desde el fondo de mi corazón por vuestra DEDICACIÓN, IMPLICACIÓN Y APOYO CONTINUO!!!
¡¡CBS no existiría sin todos vosotros!!
Os deseo a todos unas fantásticas vacaciones de verano. Cuídense mucho y disfruten de tiempo de calidad con vuestras  familias y amigos… ¡¡Os lo merecéis!!
Un abrazo
Miss Samantha
Subdirectora de CBS