Nuestro principal objetivo en
CBS, The British School of Seville,

es otorgar a sus hijos una experiencia educativa positiva en un ambiente seguro. Cada día nos esforzamos y trabajamos con nuestros alumnos para que tengan éxito en su proceso de aprendizaje.

Estamos seguros de que el uniforme escolar tiene un impacto positivo en el aprendizaje y comportamiento de los estudiantes, pues los une, aumenta el orgullo sobre el colegio y elimina cualquier barrera social que pudiera desarrollarse.

Todos los estudiantes del CBS, The British School of Seville deben llevar el uniforme escolar completo.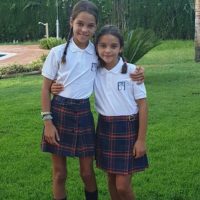 UNIFORME DE VERANO

(meses de septiembre, mayo y junio)
Falda escocesa de CBS
Pantalones cortos o largos, grises
Camisa blanca o polo blanco de manga corta con el logo de CBS
Calcetines azul marino
Zapatos negros o azules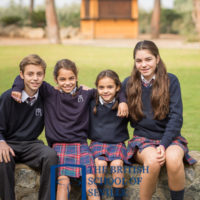 UNIFORME DE INVIERNO

(resto del año)
Falda escocesa de CBS
Pantalones cortos o largos, grises
Corbata de CBS (Obligatoria desde Year 3 en adelante)
Camisa de manga larga con logo de CBS
Jersey azul marino con cuello en v con el logo de CBS
Medias o calcetines azul marino
Zapatos negros o azules
Abrigo/chaqueta oficial de CBS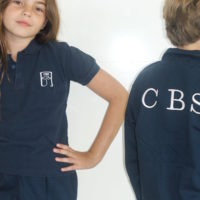 UNIFORME DE EDUCACIÓN FÍSICA

(Verano e invierno)
Calzado deportivo blanco
Pantalones cortos azul marino de CBS
Pantalones largos azul marino de CBS
Falda-pantalón azul marino de CBS
Polo azul marino con el logo de CBS
Chándal azul marino con el logo de CBS