Sello oficial de Cambridge Learning Partner para el CBS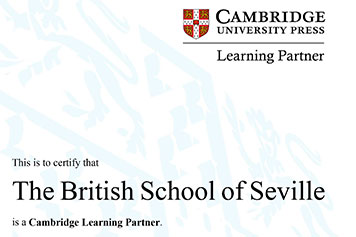 En el CBS, The British School of Seville, estamos hoy muy orgullosos porque Cambridge University Press, nos ha concedido el sello oficial de Cambridge Learning Partner. Esto significa que nuestro colegio será capaz de beneficiarse de la aplicación de la filosofía de Cambridge Learning Journey y garantizar un enfoque educativo de alta calidad diseñado para mejorar la calidad de la enseñanza y el aprendizaje.
Cambridge Learning Partner es una alianza entre Cambridge University Press, editorial de la Universidad de Cambridge, y CBS, The British School of Seville con el objetivo principal de construir un marco que garantice la excelencia en la enseñanza y el aprendizaje de la lengua inglesa.
Este programa consiste en:
1) Proyecto educativo propio: Cambridge Learning Journey. Un viaje que eleva la competencia en el manejo del inglés y utiliza este además como vehículo para el desarrollo cognitivo, emocional y social del alumno.
2) Materiales de Cambridge University Press: acreditados por la prestigiosa Universidad, preparan oficialmente para los exámenes de Cambridge y trabajan las competencias emocionales y life skills. Amplio rango para alumnos de todas las edades.
3) Garantía para el futuro laboral: el sello de calidad Cambridge es una referencia mundial en la acreditación del inglés en los ámbitos académico y empresarial.
4) Formación para el profesorado: impulso a su desarrollo profesional y personal y beneficios directos en el aula.
5) Conexión aula-hogar: actividades lúdicas para trabajar en casa con la participación de las familias y como apoyo en la preparación de las pruebas de Cambridge.
En el CBS, implementamos la filosofía de aula del Cambridge Learning Journey que guía a los alumnos desde la infancia hasta la adolescencia con un proyecto coherente e innovador y que además incluye la inteligencia emocional en inglés.