The World Space Week at CBS
Posted by

Categories

Noticias

Date

13 octubre, 2017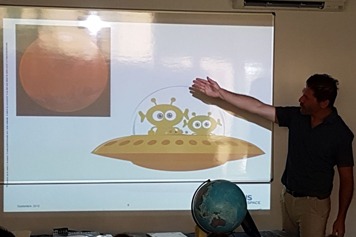 Esta semana celebramos The World Space Week en el CBS y Ferdinad Gratz padre de alumnos en Yr 2 y Reception y que trabaja en Airbus Defence and Space ha venido hoy a hacer una presentación a los alumnos de KS2 y KS 3.
Durante esta actividad, los niños han descubierto que muchas pequeñas cosas que hacen a diario, son posibles o más fáciles de hacer, gracias a la tecnología espacial y la ciencia.
Algunos de los temas tratados son los relojes atómicos, las previsiones del tiempo, la seguridad en la aviación, los satélites, las comunicaciones, las energías renovables, peraciones de rescate, la agricultura, avances en la salud, tanto en cirugías como en atención sanitaria a distancia, robots, predicción de enfermedades, localización de icebergs y creación de mapas para evitarlos, cohetes, el medioambiente y el cambio climático, la salud, GPS y sistemas automáticos en los vehículos. También han podido saber qué tipo de investigaciones se realizan en la Estación Espacial Internacional para ayudar a que nuestro mundo sea mucho mejor.
Con muchos datos y también, mucha imaginación, se han hecho predicciones sobre el futuro que nos espera aquí en la Tierra. También han podido conocer un poco mejor a Bruno, el robot-rover que está en Marte y fabricar un pequeño satélite.