8 de Marzo – Celebración del Día de la Mujer en el CBS 2018
Posted by

Categories

Noticias

Date

8 marzo, 2018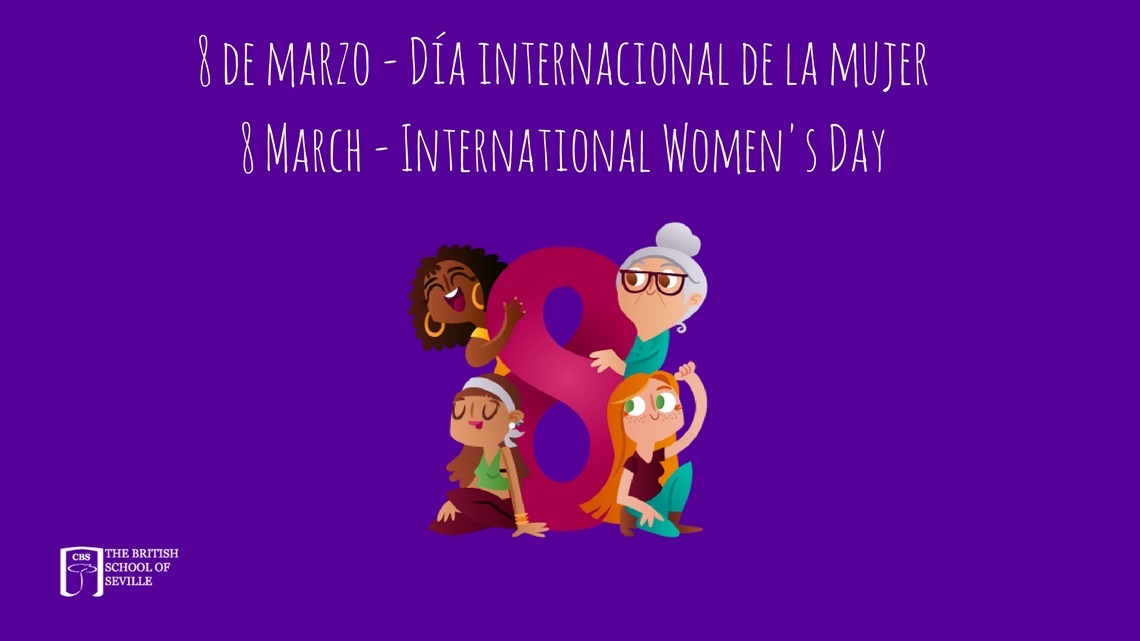 Hoy, en primaria, hemos celebrado el Día Internacional de la Mujer. Tuvimos una asamblea especial para admirar a mujeres inspiradores alrededor del mundo y las grandes cosas que ellas han conseguido. Y primero vieron este vídeo.
Miss Katie invitó a 5 chicas de secundaria para hablar y responder preguntas de los niños acerca de sus talentos y logros y cómo ellas han conseguido sus metas. Antes de comenzar la asamblea, le pedimos a los niños, que dibujasen y diesen nombre a un bombero, un cirujano y un piloto de combate. Entre todo Year 2, se han hecho 72 dibujos y solo 16 de ellos eran mujeres.
Después vieron el siguiente vídeo y recrearon este experimento en la clase.
Esperamos que los niños hayan aprendido algo de la asamblea. Le preguntamos a Year 2 qué habían aprendido, y estas son algunas de las respuestas:
Miguelon: "Las chicas pueden hacer grandes cosas".
Antonio: "Todas las chicas son inspiradoras. Los niños y las niñas son iguales".
Maia: "Las chicas pueden hacer cosas increíbles. Quiero ser exploradora".
Amelia: "Las chicas pueden hacer lo que quieran".
Daniela: "Quiero ser artista".
Teresa: "Quiero jugar al fútbol en el recreo".
Aquí os dejamos 6 de sus dibujos:
Asamblea Secundaria
Hoy es el Día Internacional de la Mujer. Aquí, en el CBS, nuestros alumnos de Year 7, 8, 9 y 10, con la colaboración de Mr. Eady y Miss Venegas, quisieron ser parte de este evento mundial y organizaron una asamblea corta en la que explicaron todas las diferentes situaciones en las que existe desigualdad entre hombres y mujeres. Es nuestro momento de actuar y luchar por la plena igualdad entre hombres y mujeres y hacer un mundo mejor. Esta es su presentación (hacer clic para iniciar la presentación).
«Conseguir la igualdad de género y empoderar a las mujeres y las niñas son tareas pendientes de nuestra época y constituyen el mayor desafío en materia de derechos humanos del mundo». — António Guterres, Secretario General de las Naciones Unidas
¡Feliz Día Internacional de la Mujer!

Today, in primary we are celebrating International Women's Day. We had a special assembly to celebrate the inspirational women around the globe and the great things they have achieved. And first, they watched this video.
Miss Katie invited 5 secondary female students to talk to us and answer questions from the children about their talents and accomplishments and how they achieve their goals. Before the assembly, the children were asked, in their classes to draw and give a name to a firefighter, surgeon and fighter pilot. In Year 2 altogether there were 72 pictures drawn and only 16 of them were women.
They then watched the following video and recreated this experiment in the class.
We hope that the children have taken something from the assembly. I asked year 2 what they had learnt. Here are some of their responses:
Miguelon: 'Girls can do great things'
Antonio:'All girls are inspiring. Girls and boys are equal'.
Maia:'Girls can do amazing things. I want to be an explorer'
Amelia:'Girls can do whatever they want'
Daniela: 'I want to be an artist'
Teresa:'I want to play football at playtime'.
Their drawings:
Secondary Assembly
Today is the International Women's Day. Here, at CBS, our Year 7, 8, 9 & 10 students, with Mr. Eady and Miss Venegas collaboration, wanted to be part of this worldwide event and have organised a short assembly during which they explained all the different situations where there is inequality between men & women. It is our time to take action and fight for full equality between men & women and make a better world. This is their presentation and this is the music we listened with it.
"Achieving gender equality and empowering women and girls is the unfinished business of our time, and the greatest human rights challenge in our world."

— UN Secretary-General, António Guterres
Happy International Women's Day!